Updated 16 December: San Miguel's Christmas programme: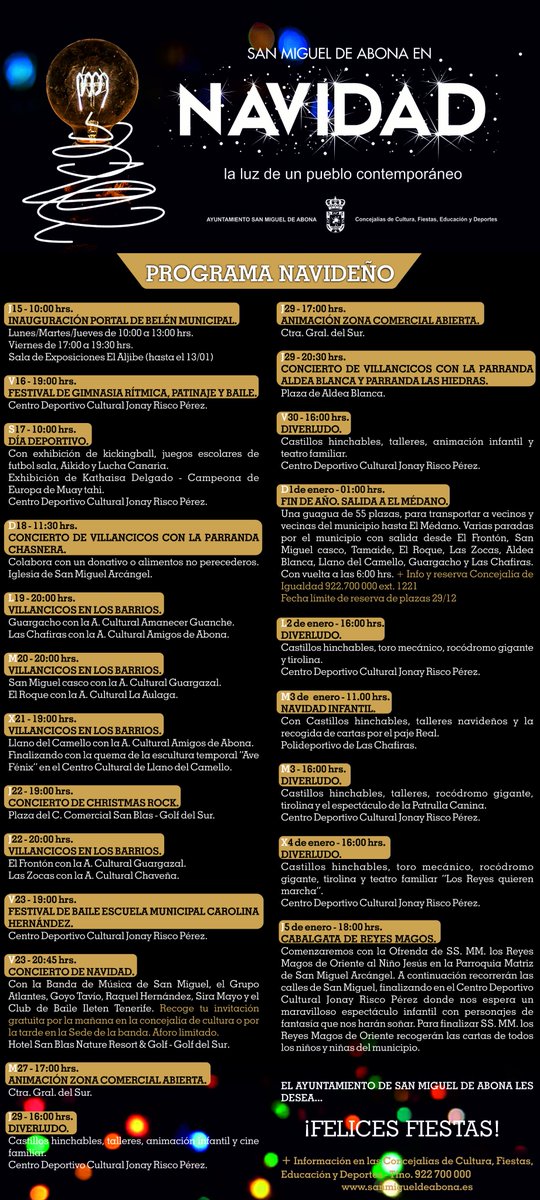 Updated 15 December: Guía de Isora Ayuntamiento has announced two Christmas markets in the borough, in Alcalá on Thursday and Friday, 22 and 23 December, and in Playa San Juan on Thursday and Friday, 29 and 30 December. Both markets will be open between 6 and 10pm.
Updated 13 December: Adeje Ayuntamiento has drawn attention to one event in the municipality this week which it says was one of the highlights of Adeje's Christmas schedule last year and is a guaranteed musical treat. This is the military Christmas Concert in the Magma Arte & Congresos centre on Saturday, 17 December, involving municipal bands from Adeje and Guía de Isora joining the Nº2 Army Band BRILCAM-XVI and the Musical Unit of the Canarian Command.  Tickets are just €1 and for charity.  For details of this and and all the other events in this year's programme of events in Adeje, HERE's the link again (and HERE in English to download as a word document).
Updated 7 December: Christmas Carols in the streets through Arona municipality next week as follows:
Tuesday 13th:
5pm Guaza
6pm Las Galletas
7.15pm El Fraile
8.30pm Parque La Reina
Wednesday 14th:
5pm La Camella
7.15pm Buzanada
Thursday 15th:
6pm Arona Casco
7.15pm Cabo Blanco
8.30pm Valle San Lorenzo
Friday 16th:
5pm Los Cristianos
Updated 6 December: Granadilla's Christmas programme is HERE, and San Miguel's, without too much specific detail, is HERE.
Updated 3 December: Adeje Ayuntamiento will be turning on the town's Christmas lights this evening. There is a concert at 7pm in the convent right next to the town hall at the top of Calle Grande. Entry is free and the official switching on of the Christmas lights is part of the event.
Updated 2 December: Adeje's Christmas programme is HERE (can be downloaded as a word document in English HERE), and Guía de Isora's HERE. In the north, Puerto de la Cruz has published its Christmas programme HERE, and Icod's is HERE.
Updated 1 December: Arona's Christmas programme in general has been published HERE, incorporated into its December cultural programme. There will also again be various activities with a Christmas theme specifically for children. These will be travelling around the different parts of the municipality between 4pm and 7pm in the following dates and places:
Thursday 01 | La Camella | Plaza De La Iglesia
Monday 05 | Buzanada | Ext. Campo de Futbol
Wednesday 07 | Guargacho | Calle Flor del Sur
Thursday 08 | Arona Casco | Plaza de La Paz
Tuesday 13 | Parque de La Reina | Ext. Centro Cultural
Wednesday 14 | Las Rosas | Parque Infantil
Thursday 15 | Las Galletas | Parque Paulino Suances
Monday 19 | Cabo Blanco | Plaza de la Iglesia
Tuesday 20 | Los Cristianos | Plaza de La Iglesia
Thursday 22 | Guaza | Plaza El Madrigal
There are also film screenings and a chance for children to hand over their letters to the Wise Men … all the details are on the following poster (click to see full size):
Updated 30 November: Puerto de la Cruz Ayuntamiento has announced that the town's grand switching on the Christmas lights will take place tomorrow night at 7pm in the Plaza de la Iglesia Ntra. Señora de la Peña de Francia. That's the main Church in the square right in front of the Hotel Monopol in the centre of town just metres from the start of the San Telmo promenade.
Updated 28 November: El Sauzal has announced its Christmas programme HERE.
Updated 25 November: La Orotava Ayuntamiento has announced its municipal Christmas programme. Click on the image below to see full size, and Santa Cruz's is HERE.
Updated 21 November: The Ballet de Moscú has announced that it's returning to Los Cristianos on Thursday 8 December with its Christmas performance of The Nutcracker. For more information see the main post HERE.
Updated 16 November: The Magma Centre has now announced that tickets are on sale for the rink, which will be open between this Saturday, 19 November, and 15 January 2017,
Updated 12 November: The Magma Centre ice rink is already being assembled, with working on it starting today. Tickets, and announcement of dates, will be coming shortly HERE.
Updated 10 November: Arona Ayuntamiento has announced the first Showroom Navideño in Las Galletas on Saturday, 19 November, between 5 and 10pm. The event will be held in the Parque Paulino Suances next to the colegio Las Galletas, and will put on display everything Las Galletas will be offering this Christmas. There'll be fashion shows, children's play and workshops, and much more, all to do with Christmas! We're still waiting the first full official Christmas events programme, but it's clearly gearing up now!
Original post 15 September: And the prize for this year's first Christmas announcement goes to … the Magma Centre, which has announced that there will be a Christmas ice rink throughout November, December and January.